Nazir Ahmad Raja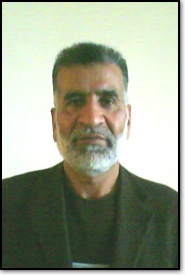 Dear friends!

You've stumbled upon this site for a reason, perhaps a friend shared it with you, and you found a link to it by sheer coincidence while you were searching about buying and selling a residential, commercial or an investment property.

Whatever the reason - know this… the man you're about to meet and the team you're about to share your real estate needs is very famous for its valuable services to the community and is known as "The Tagari Team" and it may have a dramatic influence on your life over the next few days or few weeks.

My name is Nazir Ahmad Raja. I was brought up in a remote village of District Sargodha, Punjab Province - Pakistan and started working in the lands with my father as a cultivator from dusk to dawn, when I was only eight years old. Naturally a love with land (i.e. Real Estate) developed in the core of my heart during my early childhood.

After graduation in Mechanical Engineering from the University of Engineering & Technology, Lahore, in 1973, I started my career as an Engineer in Public Works Department (Govt. of Punjab - Pakistan) and served as an Assistant Engineer / Executive Engineer and Drawing and Disbursing Officer in the Department for about 25 years. In view of my excellent services to the people, dedication and hard work, I was awarded scholarship for higher studies in 1991 by the Government of Pakistan and eventually got Master Degree in Civil Engineering from the University of New Castle Upon Tyne (United Kingdom).

On migration to Canada, being an Engineer by profession and a Realtor by nature, I joined the real estate industry. Thus, I have remarkable experience for more than 30 years in the field of construction of homes, commercial buildings and other structures as well as interacting with the people in diversified disciplines like Electro - Mechanical, Civil and Agriculture works. My commitment to clients and work ethic are unparalleled. My unique organized and innovative approach to the real estate business is the key of my success to achieve the goal of the Tagari Team "CLIENT SATISFACTION". I am keenly interested to uphold my integrity to attract the support and confidence of my clients by serving my community in the field of Real Estate transactions with all of my potentialities, experiences, professional abilities, engineering and organizational skills.

Anyone may start living the life of one's dreams if one buy's a "Dream Home at a Dream Price" or "Buy Dream Commercial / Investment Property having Dream Income / Reward". And it is possible only, if you engage a certified professional from a result oriented team of renowned professionals for services of more than 35 years to the community - to take clients with a strong commitment and full devotion to his legitimate duties in pursuance of the Real Estate and Business Brokers Act, 2002 and all other Rules and Regulations enforced to satisfy them following the real estate-buying or selling process methodically step-by-step as per "15 STEPS - TAGARI TEAM PURCHASE PLAN" or "15 STEPS - TAGARI TEAM SELLING PLAN" comprising of total 15 steps: (Making the Decision to Buy or Sell-01, Deciding Property & Affordability-02, Reconnaissance of Location for Future Prospectives-03, Geological and Topographical Survey of Site-04, Investigating the Marketplace-05, Pre-approval of Finances-06, Selecting and Working with a Lawyer-07, Selecting and Working with a Mortgage Broker-08, Arranging a Mortgage-09, Analysing and Discussing the Clauses / Conditions with Client and Making an Offer-10, Negotiating Process-11, Having the Property Inspected-12, Completing the Transaction-13, Complete Documentation Checks and Audit-14, Making "Smooth Move into the Property"-15).

In the last but not the least, I hereby make a commitment to my client and under take that I will leave no stone unturned in providing my client the detailed requisite information, necessary knowledge and education, honest opinion, and following the above mentioned steps in a professional and engineering way, because I believe buying and selling of a Real Estate Property is a huge financial commitment, the most important decision and an exciting adventure of my client's life.




Nazir Ahmad Raja
Sales Representative
raja@thetagariteam.com
Direct Line: (647) 885-7252